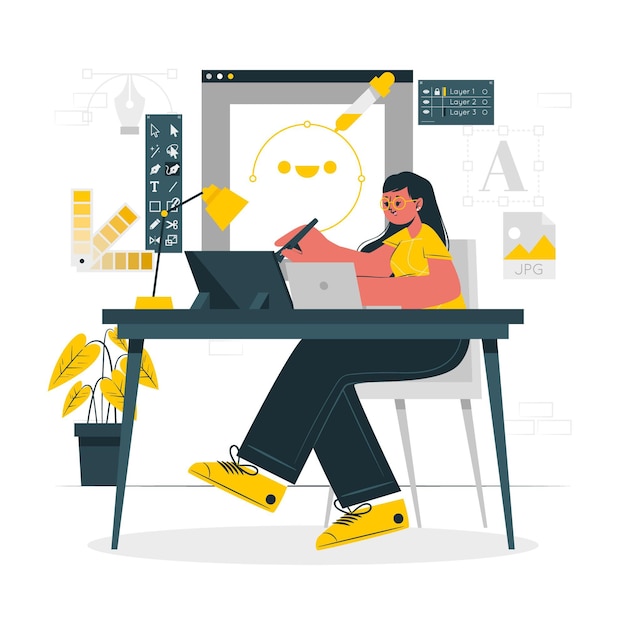 Desain yang tampak hebat didasarkan pada detail terkecil. Detail ini dapat menyebabkan banyak masalah bagi desainer pemula. Gagal mengikuti aturan dapat merusak desain apa pun, dan membuat desain Anda terlihat tidak profesional.
Untungnya, ada cara yang dapat Anda gunakan untuk meningkatkan karya desain Anda. Anda tahu beberapa desain yang terlihat oke, tapi terasa sedikit aneh?
Pada artikel kali ini, saya coba bahas 5 tips rahasia desain yang dapat Anda gunakan dalam mendesain apapun, bahkan dalam dalam desain sebuah visualisasi data.
1- Gunakan White Space
White Space mengacu pada area desain mana pun yang belum Anda gunakan. Jangan tergoda untuk mengisi setiap piksel yang tersedia dengan informasi. White Space dapat menjadi alat yang ampuh bila digunakan dengan tepat.
White space menarik perhatian audiens ke tempat yang Anda inginkan, menciptakan suasana elegan tentang desain Anda, dan meningkatkan pemahaman audiens dalam prosesnya. Bagi Anda yang ingin memahami tentang white space, saya telah menuliskan di LINK INI
2- Gunakan Hirarki
Hierarki visual mengacu pada ukuran elemen Anda. Pada dasarnya, buat item terpenting di halaman menjadi yang terbesar, lalu turunkan skala. Ini akan membantu menarik perhatian ke poin-poin penting terlebih dahulu. Kemudian ke informasi pendukung. Kesederhanaan semacam ini membantu audiens Anda memahami pesan utama.
3- Gunakan Warna Secara Sederhana
Warna merupakan alat penting yang perlu Anda pahami. Jadi gunakanlah dengan bijak! Jangan memasukkan terlalu banyak warna. Anda masih bisa memberikan banyak pengaruh dengan palet sederhana. Untuk hasil terbaik, pilih satu warna utama dan warna sekunder yang kontras dan pelengkap. Gunakan ini di samping putih biasa (untuk latar belakang) dan hitam (untuk teks / batas) untuk dengan mudah membuat skema warna yang menyenangkan dan menarik.
Saya telah menuliskan tentang warna, silahkan Anda klik disini. LINK INI
4- Batasi Tipografi
Seperti warna, Anda harus membatasi tipografi Anda menjadi dua – satu untuk heading dan satu lagi untuk body copy. Terlebih lagi, font ini harus sederhana dan mudah dibaca. Tidak ada yang mau menyipitkan mata saat menonton presentasi Anda! Dan penelitian telah menunjukkan bahwa jika teks terlalu sulit dikonsumsi, kecil kemungkinannya untuk beresonansi dengan dan diingat oleh pembaca .
5- Gunakan Grid
Ingat betapa pentingnya keselarasan? Grid dapat membantu lebih banyak lagi dengan itu – memastikan bahwa elemen tidak hanya sejajar satu sama lain, tetapi perataan Anda konsisten di setiap slide.
Nah itu tadi pembahasan tentang 5 tips rahasia desain. Nantikan tulisan saya berikutnya. feel free to share and give new insight for all.
Semoga Bermanfaat
AB
Reference