Tableau memiliki fitur yakni bernama Story. Story dapat digunakan untuk membuat sebuah urutan visualisasi dalam menyampaikan data.Tidak hanya itu, story dapat digunakan untuk menarasikan data, menyediakan konten, dan juga cara mendemonstrasikan keputusan terkait hasil atau untuk sekedar membuat sebuah kasus yang kuat.
Story adalah sheet, jadi ketika Anda memberi nama dan mengelola worksheet atau dasbor juga berlaku untuk story. Story di tableau juga merupakan kumpulan lembaran yang disusun secara berurutan. Setiap lembar terpisah dalam story disebut story point. Hubungan dari semua poin cerita menciptakan alur story tableau. Berikut penjelasan lebih lanjut tentang fitur story tableau.
Ruang Kerja Story
Saat Anda mengerjakan sebuah cerita, Anda dapat menggunakan kontrol, elemen, dan fitur berikut.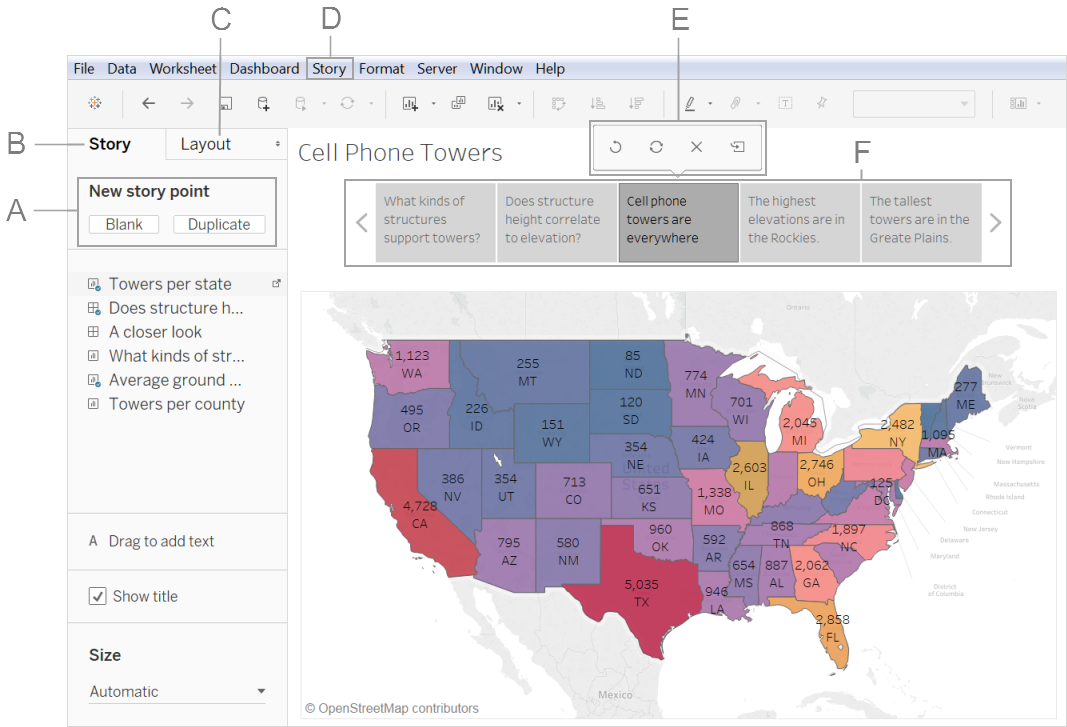 A. Opsi untuk menambahkan poin cerita baru: Pilih Blank untuk menambahkan poin baru atau duplikat untuk mengandakan story
B. Panel Story : Gunakan panel ini untuk menyeret dasbor, lembar kerja, dan deskripsi teks ke lembar cerita Anda. Ini juga tempat Anda mengatur ukuran cerita dan menampilkan atan menyembunyikan judul.
C. Panel Layout: Ini merupakan tempat Anda memilih gaya navigator anda dan menampilkan atau menyembunyikan panah maju atau mundur.
D. Menu Story: digunakan untuk memformat cerita, menyalin, dan mengekspor story points sebagai gambar. Anda juga dapat menghapus seluruh isi cerita di sini, menampilkan atau menyembunyikan navigator dan judul story.
E. Toolbar Story: toolbar ini muncul saat Anda mengarahkan mouse ke area navigator. Gunakan untuk mengembalikan perubahan, menerapkan pembaruan ke story point, menghapus stoy point dan membuat story point baru.
F. Navigator: memungkinkan Anda untuk mengedit dan mengatur story points. Untuk merubah gaya navigator, gunakan pnel layout
Membuat Story Point di Tableau
Untuk memudahkan Anda dalam membuat sebuah Story Point, berikut langkah yang bisa sebagai Anda ikuti.
1- Klik Story Tab
2- Maka akan muncul tampilan seperti dibawah
3- Di pojok kiri bawah layar, terdapat story size. Ini digunakan untuk memilih ukuran story Anda. Saya sarankan menggunakan ukuran custom, yakni 1280 px X 720 px. Ukuran tersebut saya dapatkan dari ukuran powerpoint 16:9. Jika ukuran di powerpoint dalam cm, maka kita tinggal merubah ke dalam satuan pixel.
4- Secara default, Story mendapatkan judul dari nama sheetnya. Untuk mengeditnya, klik kanan tab lembar dan ganti nama lembar. Untuk mulai membangun cerita Anda, klik dua kali lembar di sebelah kiri untuk menampilkannya sesuai tujuan cerita Anda. Pada Tableau desktop, Anda juga dapat men-drag n drop untuk mengarahkan lembar kerja ke story points.
5- Klik caption untuk menambahkan ringkasan
6- Jika Anda ingin menambahkan cerita lain, klik blank untuk menggunakan lembar terbaru dari tujuan cerita selanjutnya.
7- Mulai sesuaikan tujuan cerita dan klik Save as New pada bilah alat di atas kotak navigator. Mengklik Save as New menyimpan penyesuaian Anda sebagai tujuan cerita pengganti. Tujuan cerita pertama tetap tidak berubah.
Baik, itu tadi pembahasan tentang fitur story tableau.. Semoga artikel ini bermanfaat untuk menambah pengetahuan Anda dalam visualisasi data. Anda pun bisa menambah skill tentang Visualisasi Data bersama saya dan tim Kreasi Presentasi. Silakan menghubungi Bu Isti di 0857 3333 0407 untuk penawaran pelaksanaan Workshop Visualiasi Data bersama kami.
Nantikan tulisan saya berikutnya. feel free to share and give new insight for all.
Semoga Bermanfaat. Salam Amazing.
AB
Reference